VickyJ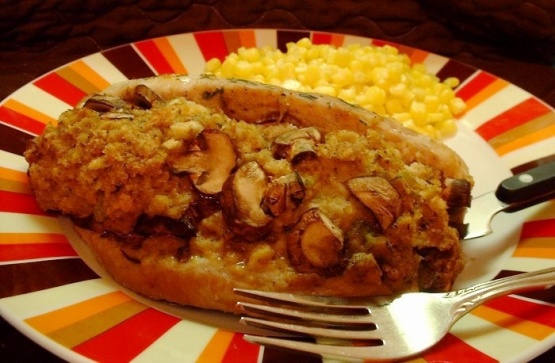 Make the stuffing ahead, just refrigerate. Just make sure to bring to room temp before stuffing the chops.
Preheat oven to 350 degrees F.
Trim fat from chops.
Cut a 2 inch pocket in each chop.
Sprinkle inside of each pocket lightly with salt and pepper.
Set aside.
Melt butter in a large skillet over medium heat.
Add onion and mushrooms; saute until tender.
Remove from heat.
Stir in sage, salt, pepper, and bread crumbs.
Add 1/3 cup sour cream or plain yogurt to mixture.
Add enough broth/water to moisten and hold stuffing together.
Spoon stuffing into pockets.
Secure pockets with kitchen twine or toothpicks.
Place chops in baking dish.
Add remaining broth/water.
Cover and bake for 30 minutes.
Remove cover, bake for 20 minutes or until tender.