Debbwl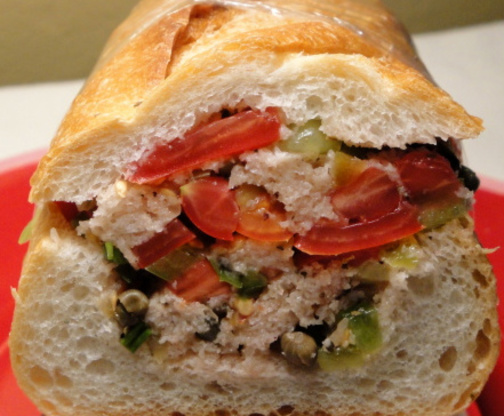 This recipe was found in The Colour Book of Cooking for Two by Sue Russell. I've made some small changes to the original recipe to suit my family's tastes. This loaf is ideal for a picnic and improves if made the day before.

Made this so that the kids and I could have it for lunch (DH didn't try it because it was just veggies). I omitted the olive oil, because the tomatoes (chose Kumatos) were very juicy. With that and the pickle juice, I figured the olive oil would make the bread to soggy. The one ingredient I added to the sandwich was slices of provolone cheese. It was enjoyed by all... we can't wait until spring when the snow melts so we can take this sandwich on a picnic. Thank you for posting this recipe. Made and reviewed for the Best of 2010 Recipe Tag game.
Combine tomatoes, shallots, green or red pepper, olives, capers and pickle.
Cut French loaf in half lengthways and scoop out all the bread.
Mix the crumbles bread with the tomato mixture, a little olive oil, basil, salt and pepper.
fill the two empty bread crust shells with the mixture, press together, wrap the loaf securely in aluminum foil (plastic wrap should work, too) and chill.