Stuffed Peppers (Quicker and Healthier)
Dantana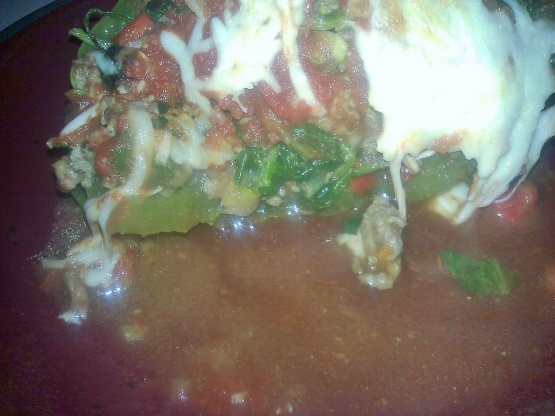 I combined a few recipes that I've found that I really liked, and came up with this one. It's very tasty, has lots of veggies and is low carb (what more could you ask for?) Using lean ground beef, and no rice makes this a "South Beach" friendly meal.
Preheat oven to 375.
Bring a large pot of water to a boil, poach the bell pepper halves till just tender. remove and allow to drain cut side down on paper towels or a tea cloth.
While the peppers are par-boiling, heat a large deep sided frying pan to med-high heat.
Add the ground meat, onions and garlic and cook till the meat is no longer pink.
Add thezucchini, red peppers, spinach, oregano and mint (and some salt and pepper, if you like)
Cook till the zucchini and spinach are wilted (there will be some juice at the bottom of the pan).
Divide meat mixture into the four large pepper halves (it will mound up pretty well)
Divide tomato sauce over four filled peppers, then top with the mozzarella.
Bake about 10 minutes to melt the cheese and heat completely through.