Redsie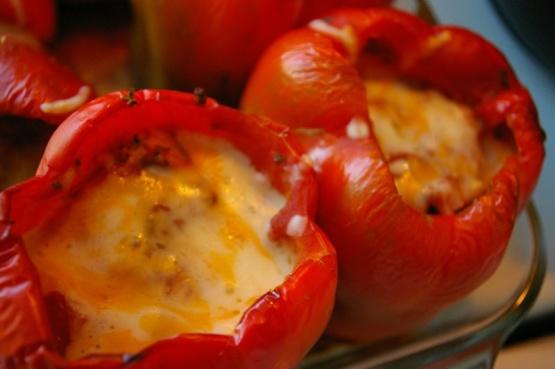 This recipe does not include rice, but you are always welcomed to add this ingredient.

Top Review by Gwen35
Very, very nice! The spices in the meat mixture are just right and the tomato topping is excellent. Next time, however, I believe I will add about 1/3 cup of raw rice, as I found them to be a bit too "dense". The only thing I did different was NOT to blanche the peppers, and they turned out beautifully. I sprinkled the insides of the peppers with a bit of salt and turned them upside-down to drain. I plan on doing this recipe as a meatloaf with the tomato topping. Thank you, Andi, this is an excellent recipe.
Preheat oven 350 degrees.
Lightly spray baking pan with cooking spray.
Blanch peppers in boiling, salted, water 5 minutes.
Briefly, and lightly, hand mix ground beef mixture, adding all ingredients from ground beef to parsley, except tomato sauce topping.
With a tablespoon, stuff each pepper with meat mixture.
Mix ingredients of tomato sauce and spices, or use any tomato sauce of your choice.
Place 2 tablespoons of tomato sauce in baking pan covering bottom. (This will be a small amount of covering).
Add meat stuffed peppers to dish.
Drizzle tomato sauce over top of stuffed peppers.
Add optional 1 piece of bacon to top of each pepper.
Bake at 350 degrees for 50-60 minutes.
When serving, dish out tomato "gravy" to top of each pepper.