My husband loves red pears and this is a recipe he came up with. My husband prefers to cut the top off of the pear and stuff them from the top. I, however, feel it's easier to slice the pears in half lengthwise.
Directions
Preheat oven to 375°F.
Slice pears in half lengthwise and scoop out a little of the flesh to make bowls.
Brush pears with oil. Sprinkle with salt, pepper and thyme.
Roast pears for 15 minutes and then take out of the oven.
Combine cheese, bacon and nuts. Fill pears with mixture.
Put the pears back in the oven and roast 15 minutes more.
Reviews
Most Helpful
I loved the idea of stuffing pears and the combination of the roasted pecans and bacon was delicious. I did not have gouda so I used gorgonzola instead. Next time I might try this with the gouda. Thanks for the post.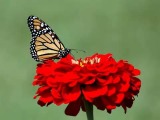 this was great!!!
Pears and cheese are wonderful. We liked this very much but thought the Gouda cheese was a little lost/mild. Will certainly make it again and try it with a 1/4 cup Gouda and a 1/4 cup Gorgonzola. I also cut the pears lengthwise. Thanks for sharing!