Stuffed Pancakes, Elvis Style (Tyvm)
Prep 10 mins
Cook 20 mins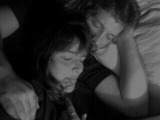 Nutella and banana filled pancakes, topped with whipped cream and chopped nuts... This is more a scrumptious dessert than a breakfast dish.
Directions
Heat griddle (or skillet) over medium-high heat; spray with cooking spray. In medium bowl (I use a 4 cup sized Pyrex glass measuring cup for easy pouring), stir together Bisquick, sugar, baking powder, milk, vanilla, and egg until well blended.
For each pancake, pour about 1/4 cup batter onto hot griddle. Add 1 teaspoon or so of Nutella to the center of batter and top with a couple of slices of banana. Cover with a small amount of batter to seal the filling. Cook until the outer edges bubble on top of pancake.
Turn; cook until golden brown. Serve with whipped cream and some chopped nuts.
Reviews
Most Helpful
My hubby loved these, but the nutella was a little too much for me. I prefer nutella room temp, it seemed sweeter for some reason in the hot pancakes. We usually make something similar but with peanutbutter.