Stuffed Mushrooms - Ww Style
Borger2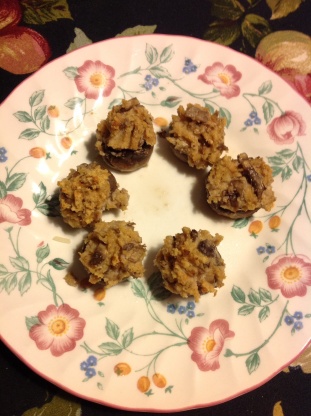 I found this recipe off of the community bulletin board on Weight Watchers for low calorie stuffed mushrooms. They were so good!!! Definitely try these. The recipe called for 3 cups of mushrooms but I was only making four large caps so this is what I did. You can definitely scale this recipe.
4

large mushroom caps

4

(3/4 ounce) wedges Laughing Cow light garlic and herb cheese
1⁄4 cup Italian style breadcrumbs
Unwrap cheeses and place in microwave for 30sec to minute to soften.
Combine together crumbs, mushroom stems and cheese.
Take spoonfuls and fill mushroom caps. Place mushroom caps filling side up on UNGREASED cookie sheet.
Cook 20 min at 400 degrees Farenheit or until stuffing is lightly browned on top.
Let cool, then serve. Mushrooms will be juicy.