Stuffed Mushrooms With Leeks, Blue Cheese and Walnuts.
Nif_H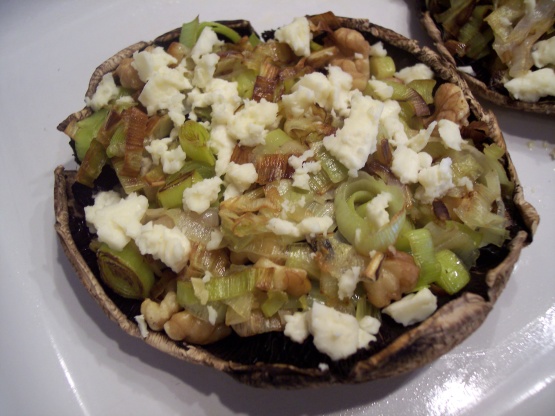 A really simple and tasty dish that is so versatile and open to so many interpretations. Great for a starter, side or snack dish, or why not stick it into a bun for a veggie burger! I've used toasted pine nuts, but hazelnuts would be good too. Stilton and Cambezola cheese work really well too and Cheddar is an obvious choice if you don't do blue cheese. I bet fresh mozzarella would be great too. Chopped bacon can also be added to the leek for another variation.

Top Review by Nif_H
I liked the simplicity of this recipe. It was very easy to put together and would make a terrific appetizer. I used portabella mushrooms and for the cheese, I chose feta. I baked these at 375F and they were nicely done after 15 minutes. Made for Please Review My Recipe tag. Thanks! :)
Preheat the oven to 200/180/Gas 6.
Melt the butter in a pan and cook the leek until softened and light brown.
Add the nuts and stir for 1 minute, until they are coated in the butter and juices.
Put the mushrooms onto a baking sheet and top with leek mixture and then the cheese. Bake for 15-20 minutes.