Stuffed Mushrooms Parmesan (fungi Alla Parmigana)
Kim D.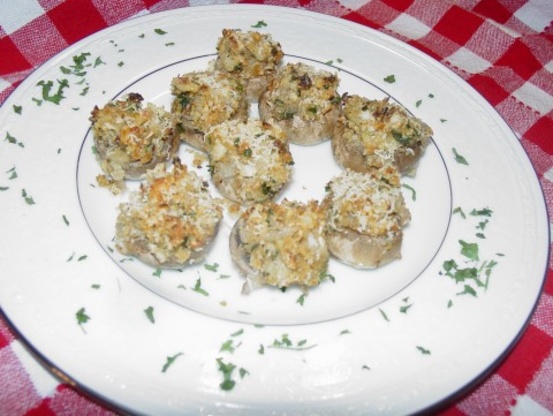 These mushrooms are an easy appetizer to prepare and guests love them!

Top Review by aricia
I love these stuffed mushrooms for a light appetizer. I, too, like that they are not stuffed with meat. My husband used to refuse to touch mushrooms and this recipe converted him to a mushroom eater! To me, they smell almost like pizza when they are baking. I think it was the smell that tempted him to try one. My mom used to make these from a recipe in an old church community cookbook. Our recipe varies slightly in that it does not call for greasing the pan or adding oil to the tops of the mushrooms, and uses 1 slice of crumbled bread in place of the dry breadcrumbs. I love cheese so I can not resist adding shredded mozzarella to the tops!
Grease a shallow baking pan, large enough to hold the mushrooms in a single layer.
Clean mushrooms.
Cut off stems and save.
Place mushrooms in prepared pan, cut side up.
Finely chop mushroom steams.
Heat oil in skillet and saute steams, onion and garlic.
Cook slowly until onions and garlic have slightly browned.
Add the bread crumbs, Parmesan, parsley, salt and oregano; Mix well.
Scoop spoonfuls of mixture onto each mushroom.
Sprinkle a little olive oil on top of mushrooms.
Bake at 400°F for 15-20 minutes or until mushrooms are tender and tops are slightly brown.