klm1to1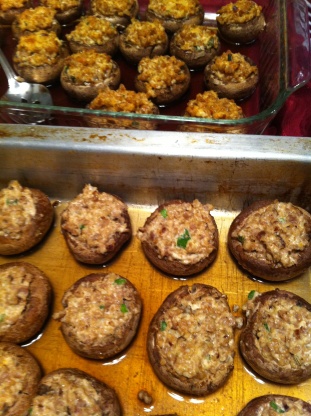 These are totally delicious. Please give them a try at your next get-together!

These were very good. I used hot italian turkey sausage and they turned out well... my guests gobbled them up. I may add some garlic next time to try to add a bit more "zip." Thanks for posting.
Remove the stems and "core" from your mushrooms and place top side down on a cookie sheet - if they want to roll, just cut a bit off of the top to make it flat so that they won't roll.
Fry the sausage, until it is cooked through.
Chop the green onions, using the green part too.
Mix the cream cheese, cooked sausage, chopped green onions and the soy sauce.
Place this mixture where your mushroom stems once were and bake in a 350 degree oven for about 20-30 minutes.