Bergy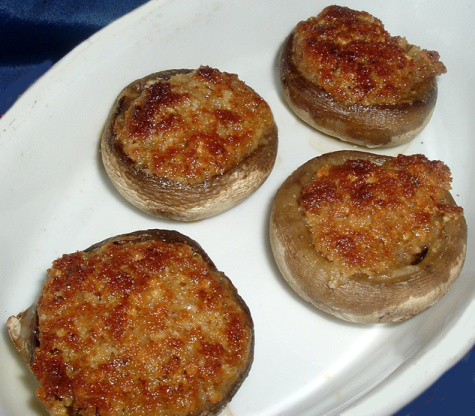 From the Fit for Life Cookbook. If you love mushrooms, you will love this simple recipe.
This is a very good recipe. I did change a few things. I used 1/2 stick butter instead of oil and added 1/2 chopped onion and quite a bit of bread crumbs. The bread crumbs made it more "stuffing like". I've made these 3 times, always using this recipe for the base and everyone loves them! Even the kids!
8

large mushrooms, remove the stems and chop the stems finely (your choice of mushrooms)

1

tablespoon vegetable oil or 1 tablespoon broth

1

clove garlic, crushed

3

tablespoons whole wheat bread crumbs
1⁄4 teaspoon basil

1

teaspoon lemon juice
Preheat oven to 375 F.
Saute mushroom stems in oil or broth (nonstick pan works best).
Add garlic and bread crumbs, and any additional oil necessary.
Stir in basil and saute briefly.
Fill mushroom caps with sauteed stuffing.
Cover with parchment and bake for 20 minutes (or until tender).
Sprinkle with lemon juice and pepper to taste.