loof751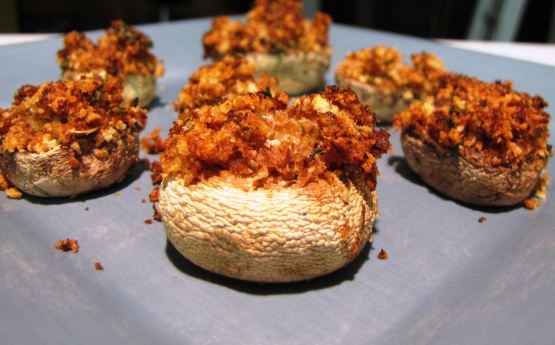 From BH&G's Diabetic Living issue 12 2007.

This is a great and healthy way to prepare stuffed mushrooms! The lemon added a very nice tang to the stuffing. I'm not a fan of anchovies so added just a few drops of light soy sauce instead. Great flavor, no guilt - thanks for posting this recipe!
Preheat oven to 200 degree celsius.
Line a large baking tray with non-stick baking paper (parchment).
Pull the stalks off the mushrooms, then cut a thin layer off the base.
Using a food processor process the bread until fine crumbs form.
In a small non-stick frying pan (skillet) place the anchovies and garlic, cook stirring over medium-high heat for 2 minutes.
Add the breadcrumbs and cook, stirring often, for 4 to 5 minutes, or until lightly toasted.
Transfer to a medium bowl and add the basil, parsley, lemon zest and lemon juice, stirring until well combined.
Divide filling among the mushroom cups, pressing down slightly.
Put on lined baking tray and bake for 12 to 15 minutes or until the mushrooms are tender and the breadcrumbs are golden brown.
Serve.