Chippie1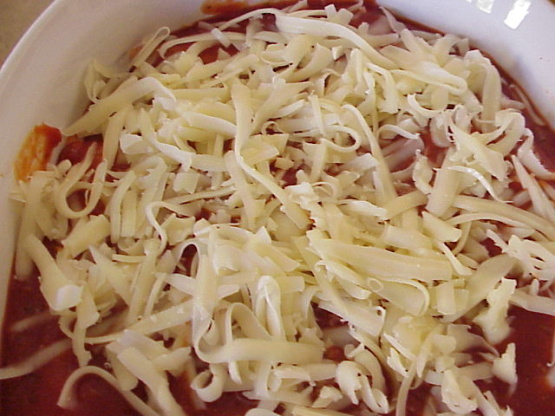 This is a family favorite around our house, even my husband who isn't keen on cheese, loves this.

I have to admit, this was the best recipe for manicotti. my family loved it and since this was my first time making it, it was easy and fun to make.
Par-boil manicotti noodles, drain.
Place in a bowl of cold water to prevent sticking.
Preheat oven to 350°F.
Combine eggs, 1/4 cup of the parmesan cheese, 1/2 of the mozzarella,cheddar and ricotta cheeses and the seasonings.
Drain shells, pat dry with paper towels.
Fill shells with cheese mixture, spread 1/2 cup of the prepared spaghetti sauce over bottom of shallow 3 quart baking dish.
Arrange filled shells over sauce; cover with remaining sauce and spoon remaining ricotta over each shell.
Sprinkle with remaining mozzarella, cheddar and parmesan cheeses.
Bake covered loosely with foil for 40 minutes.