Bergy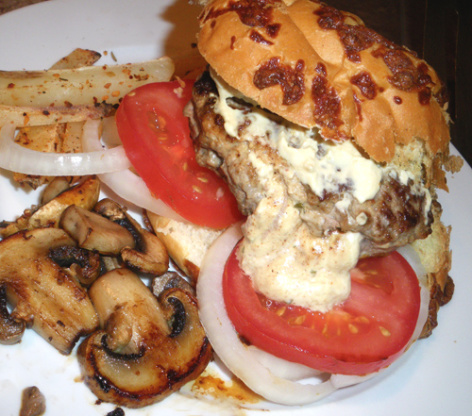 A nice change from plain old hamburgers on the grill. Just a little something to spice things up.

Top Review by Bergy
Excellent flavored hamburger - loved it. I used lite "Vegetable Medly" cream cheese, Denzel's "All Purpose Seasoning"., dijon mustard & hot horseradish. Topped the burger with a fat slice of tomato and slice of raw sweet onion. Grilled mushrooms on the side along with Baking Stone Oven Fried Potatoes. I love the mixture of the horseradish, mustard and cream cheese. Be careful biting into th burger that center gets very hot!. Thanks Mindi for another Burger keeper recipe 07 Nov 09 Made & enjoyed again Mmmm Burger
Mix seasoned salt into ground beef.
Separate beef into four parts.
Take one fourth of the beef mixture and split in half.
Flatten each one out into a small hamburger patty.
Mix together cream cheese, mustard and horseradish until smooth.
Add a spoonful to one of the patties.
Place the other patty on top of the mixture and pinch sides together to seal.
Repeat steps 3-5 until you have four stuffed burgers.
Cook on grill.
Extra cream cheese mixture can be served on side with onions, tomatoes, lettuce and any other toppings you may desire.