Stuffed Ham With Raisin Sauce
PM Chef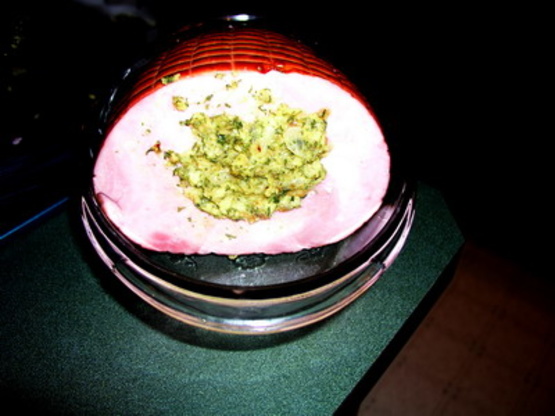 This recipe is from the Taste of Home magazine.
Using a sharp knife and beginning at one end of ham, carefully cut a 2-1/2-in. circle about 6 inches deep; remove cutout. Cut a 1-1/2 -in. slice from the removed piece; set aside. Continue cutting a 2-1/2-in. tunnel halfway through the ham, using a spoon to remove ham pieces(save for another use). Repeat from opposite end, until a tunnel has been cut through ham.
In a skillet, saute onion in butter until tender. In a large bowl, combine the next 5 ingredients. Stir in onion. Stuff ham; cover end openings with reserved ham slices. Place in a shallow roasting pan.
Bake, uncovered, at 325 for 1-1/4 hours. In a small saucepan, combine hone and orange juice concentrate; cook and stir for 1-2 minutes or until blended. Brush over ham. bake 30 minutes longer or until a meat thermometer reads 140.
For suace, combine the brown sugar, flour, mustard, and raisins in a saucepan. Gradually add water and vinegar. Bring to a boil; cook and stir for 1-2 mins or until thickened. Serve with Ham.
Yield: 12-14 Servings.