Stuffed Green Pepper Soup
If you love stuffed green peppers you will LOVE this soup.
Directions
In a 12" skillet cook hamburger and onion for 10 minutes or until meat is browned and no longer pink.
Add garlic and cook just until fragrent. Set aside.
In a medium saucepan bring 2 cups water to a boil. Add uncooked rice, cover and remove from heat for 5 minutes, fluff with fork and set aside.
In 6-quart crockpot or dutch oven add hamburger mixture, green peppers, celery, mushrooms, tomato sauce, diced tomatoes, basil, salt and pepper.
Cook at low temperature just until peppers are softened but still have a little crunch to them.
Add rice and serve.
Most Helpful
I halved the recipe and it was probably still 8 servings so this makes TONS of food, but it was great.

Excellent soup! I love that it cooks away in the crock pot while you're free to do other things. I ended up setting my crock pot to high and cooking it for approx 3 hours. I did this at breakfast time and it was ready for our lunch. I halved the recipe it was PLENTY! In fact, I don't think the full recipe would have fit into my large crock pot! I subbed out the hamburger and tried it with Morning Star veggie crumbles instead. It worked great!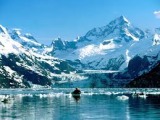 Delicious! I used both yellow and green bell peppers and the tripack of veal, pork and beef as that is the meat combo I love in stuffed peppers. I also used brown rice. It was so nice to come home to the amazingly yummy hearty soup. Great idea! Made for Help A Naked Recipe.