Stuffed Green Bell Peppers
Diana 2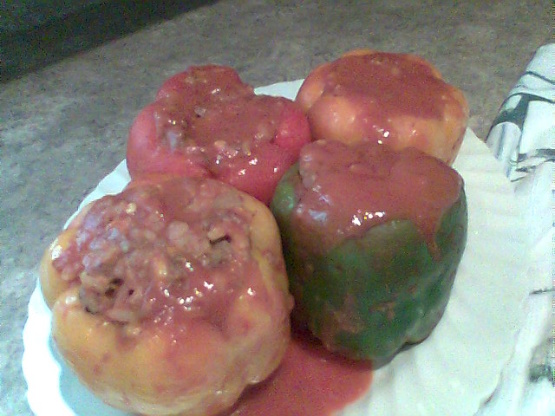 When the peppers are in season you have got to try this recipe. Simply great....

I made this in the slow cooker (8 hours on low) My husband had been hinting that he wanted me to make stuffed peppers. I kept ignoring him because I had never tried stuffed peppers and couldn't imagine it being good. Well, let me tell you, I think I liked it more than he did. I will make this again. Thank you
Preheat oven to 350 degrees.
Place a 14x20 oven bag inside a 9x13 cake pan.
Brown the ground beef and onions and drain off the fat.
Add tomato soup, rice, cheese, salt and pepper.
COOL.
Remove the pepper tops and seeds from the green peppers.
Stuff the peppers with the meat mixture.
Combined the tomato sauce, flour and water together.
Pour one half of the tomato sauce mixture into oven bag.
Place the peppers in oven bag, stuffed side up.
Spoon the remaining sauce over the top.
Place one or two slices of bacon over the top of each pepper.
Bake 30-40 minutes until the peppers are tender.