Debbwl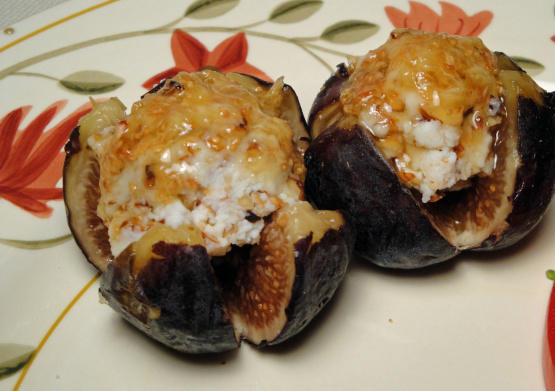 Top Review by Debbwl
Very nice little treat! This is a very easy recipe that despite the figs and honey is not overly sweet. Do not think I would use these figs for dessert although I guess you could, but so think they would be a nice appetizer for a BBQ. I made as written and thought the roasting of the almonds not only brought a lot of flavor but also helped to keep the honey in check. Thanks for the post.
Mash the ripest fig on a plate with the honey, using a fork; set aside.
Trim stems from remaining figs with a sharp knife, then cut a deep "X" in the top of each, making sure not to cut all the way through to the bottom. Gently spread each fig apart with your fingertips to make "petals."
Combine ricotta cheese and almonds in a small bowl. Press mashed fig mixture through a sieve into a cup with the back of a spoon.
To serve, spoon ricotta mixture into figs. Arrange on a platter and drizzle with fig honey.