Stuffed Flounder La Fourche
gailanng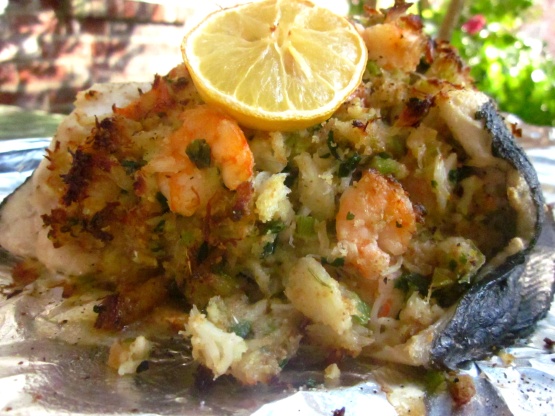 Flounder stuffed with shrimp and crab! What more can a guy (or Gal) ask for?
In a heavy pan, sauté onions, celery and garlic in the butter over medium heat.
When vegetables are soft, add shrimp, crab, egg and remaining ingredients except wine and paprika.
Slice each flounder on the dark side down the middle.
Slice toward the sides making a pocket under the meat large enough to place the seafood stuffing.
Season the stuffing to taste.
Fill the pocket, leaving a mound on top.
Place in a pan with 1 ½ cups of dry white wine.
This will keep the flounder moist and keep it from sticking.
NOTE: it helps to rub butter on the pan.
Sprinkle paprika on the top and bake for 25 minutes in a 3750 F oven.