David04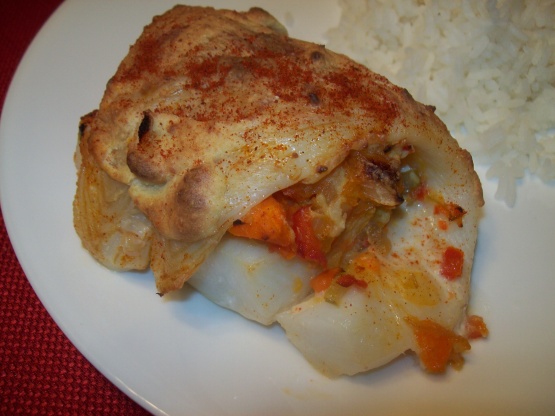 I love ordering Stuffed Flounder at the restaurants. This one I can enjoy at home and with less calories and carbs.

Great recipe! We really enjoyed the flounder as it was not too fishy and really moist. We used olive olive instead of butter, and a vidalia onion (because that was all we had on hand). We also shredded the carrots, and cooked the fish on foil on a baking sheet. Turned out perfect. Paired it with sweet potatoes fries and it really hit the spot. It would also be really good with rice. Thanks!
Preheat oven to 400°F.
Rinse fillets, pat dry with paper towels.
Sauté onions over medium heat until tender. Add celery, carrot, and pepper.
Reduce heat to medium low, cover and cook for 5 minutes, until vegetables are tender.
Increase heat to medium-high, stir in thyme and cook until all moisture is absorbed. Stir in 1 tablespoon parsley.
Spoon an equal amount of stuffing into center of each fillet.
Roll lengthwise and seal with a toothpick.
Place filets, seam side down, into coated casserole dish.
In small bowl combine cheese, mayonnaise, and mustard.
Spread over fish, sprinkle with lemon juice.
Bake 20 minutes until the fish flakes easily with fork.