This is my kind of Super ball food! If you don't like endive spread it in crackers or use as a dip for vegies. Use as a condiment for a sandwich or serve with grilled chicken.I`ve also added 1/4 cup diced red onions to the mixture.
Directions
Combine first seven ingredients mix well.
Trim ends of endive and separate heads into spears.
Spread cheese mixture on endive spears.
Serve immediately or cover and chill up to 2 hours before serving.
Garnish with basil sprigs.
Most Helpful
Very nice appetizer! I had to use kalamata olives (as I was out of just regular black olives) and while this was very tasty, it overpowered the dip so I would definitely use black olives next time (or maybe half black and half kalamata). Used a little thyme in place of the basil (as hubby is not a fan) and this worked great. Used half goat cheese and half cream cheese since that's what I found in the fridge. This was a fun alternative to a salad this evening and a great way to use up some of the Endive from my coop box this week. Thanks!

I finally found a great recipe for stuffed endive spears. I used roasted red pepper instead of sundried tomatoes.It lookded good and tasted fantastic! disappeared in a flash! Thanks for posting this one. Rita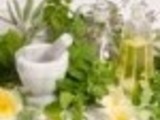 I really enjoyed this recipe. I made this for an appetizer for my family dinner. Everyone enjoyed the flavor of the stuffing. I used celery instead of Endive only to save money. But the celery worked VERY well with the stuffing.