Stuffed Eggs Beyth Mahshi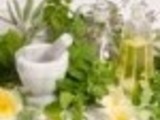 This wonderful recipe is from Saudi Arabia
Directions
Cut a slice from pointed end of each egg and remove the yolks, taking care not to break the whites.
Sieve the yolks and put in bowl with the yoghurt, sherry, olive oil, mustard and seasoning. Mix well together, then fill the whites with mixture. Stand eggs upright on a bed of spinach and add herb dressing. Chill for 1 hour before serving.
Most Helpful
This is so wonderful! How easy, and how tasty. We had fresh spinach growing in our garden, and between the spinach and the eggs, the taste was out of this world. I mashed up the egg yolk and added a bit of grated onion, along with the yogurt. I used the English ground mustard, and it gave it a little kick. Thank you so much, Sage~will make it again, soon.

Wow! These are different and really delicious! I omitted the sherry but otherwise made as recipe stated. Very good! Thanks for posting!
These are so packed with flavour - we really enjoyed this easy to make recipe! Eggsellent!!!!