Stuffed Cuban Pork Tenderloin
teresas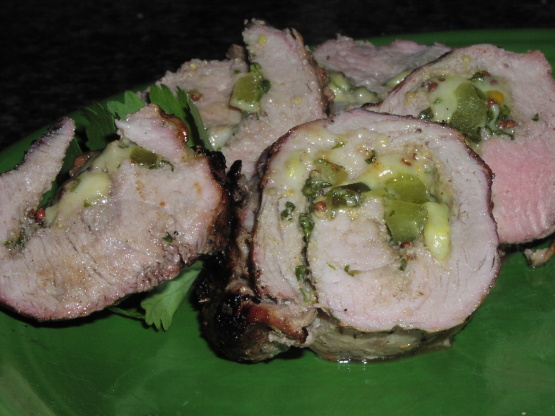 A nice 45 minute dish stuffed with bread and butter pickles, Swiss cheese, spices, and mustard.

This has lots of yummy flavor...hubby who hates to eat anything he doesn't know what's in it...was very happy to know he liked all the ingredients...me too! So easy to prepare and the presentation is wonderful...we like our pork a little more done so I just let it cook another 5 minutes before letting it rest...delicious! Thanks for posting it...=)
Preheat grill to medium-high heat.
Cut a lengthwise slit down the center of the tenderloin two-thirds through the meat.
Open halves, laying tenderloin flat.
Place tenderloin between 2 sheets of plastic wrap.
Pound to 1/2 inch thickness using a meat mallet, or heavy skillet.
Spread Dijon mustard evenly over pork; sprinkle with cilantro.
Arrange Swiss cheese slices and bread and butter pickles over pork in a single layer.
Roll up, starting with the long side, and secure pork at 1 inch intervals with twine.
Sprinkle evenly with salt and pepper.
Place the pork on a grill coated with cooking spray,.
Grill for 22 minutes, or until a thermometer reaches 155 degrees Fahrenheit internally, turning after 11 minutes.
Remove from grill.
Let stand covered for 5 minutes.
Cut into 12 slices.