Stuffed Cornish Game Hens with Cranberry Glaze
Prep 15 mins
Cook 1 hr 30 mins

This recipe was e-mailed to me by a friend. I made it this year for Christmas Eve dinner with great raves and success so I wanted to share it with you.
Glaze

2 1⁄4 cups cranberries, rinsed and drained
3⁄4 cup dry red wine
3 tablespoons honey
1 tablespoon olive oil

Game Hens and Stuffing

1 tablespoon melted butter
1⁄3 cup minced onion
1⁄3 cup minced celery
1⁄3 cup cranberries, rinsed and drained,coarsely chopped
2 cups French bread cubes, 1/2 " thick
1⁄4 cup chicken broth
1⁄4 cup finely chopped parsley
1 teaspoon dried sage, crushed
1⁄4 teaspoon dried thyme, crushed
1⁄2 teaspoon salt, divided
1⁄4 teaspoon fresh ground black pepper, divided
4 Cornish hens, giblets removed,thawed,rinsed and dried
kitchen string
Directions
Prepare the glaze: Combine cranberries and wine in saucepan, bring to a boil, reduce heat and simmer 5 minutes.
Stir in honey and continue to simmer 2 minutes.
Strain glaze, stir in oil and set aside.
Prepare the game hens and stuffing: Melt butter in saucepan over medium heat, add onion, celery and cranberries.
Saute for 3 minutes.
Add sauteed mixture to the French bread cubes.
Let cool.
Stir in chicken broth, parsley, sage, thyme, 1/4 Tsp.
salt and 1/8 Tsp.
pepper.
Stuff game hens with the stuffing and tie drumsticks together with kitchen string.
Place hens in a roasting pan.
Brush some of glaze over each game hen and sprinkle with a little salt and pepper.
Place in a preheated 450 degree oven for 20 minutes.
Reduce heat to 350 degrees and continue roasting for 45 minutes longer.
Baste hens with glaze and sprinkle with salt and pepper (salt& pepper is optional, I didn't do it) twice more during the cooking time.
Remove hens from oven and let rest 5 minutes.
Cut strings and serve.
Most Helpful
I love Cornish game hens because they are easy but look so classy! This recipe was awesome. I did use more honey in my glaze and was in a hurry so I just used a box stuffing and added a handful of Craisins. Delish!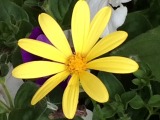 Miss Judith, I cant thank you enough. To be honest I was terrified to make those delectable little chickens, As you can now guess i have never cooked a Cornish Hen before. My Christmas diner was amazing. Thank You. If you haven't tried this, do it your taste buds will thank you for it. I had them crispy glazed on the outside and tender and juicy on the inside, meat feel right off the bones and melted in our mouths. This was really delicious! I loved the stuffing and they cooked up just perfectly. The only problem I had was the glaze turned out very thick and there was no way to strain it, so I just spread it on the hens anyway. The flavor was great so I didn't really worry about it!