Stuffed Chicken Breasts (Cordon Bleu)
-Sylvie-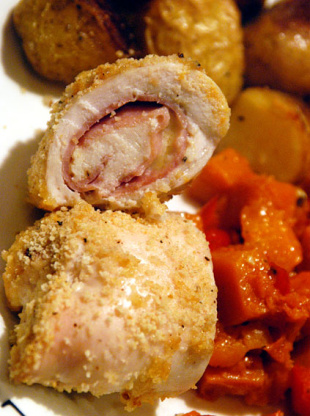 This versatile recipe will work with any filling, just make about 1 1/2 cups of it (3 tbsp per breast). Also, if you don't have a meat mallet you can use a heavy glass bottle (just don't miss!).

Just made these tonight. I didn't chop up the ham, just used one full slice along with one full slice of swiss cheese for each chicken breast, rolled 'em, breaded 'em and baked.
These were so good. The cheese was oozing out and the ham gave them such a nice flavour.
Everyone loved them!
Preheat oven to 400°F.
Place a chicken breast between two pieces of plastic wrap and pound flat and thin without breaking through the meat (Ideally this would make a 1/8 inch thick rectangle).
Remove plastic wrap, season with salt and pepper, repeat with remaining breasts.
Mix diced ham and shredded cheese together in a bowl, spoon 2-3 tbsp of mixture onto each flattened breast.
Fold in the bottom and sides and roll up (this is often difficult to do depending on how the breast flattens out, so I just fold them over and stick lots of tooth picks in them to keep them closed).
Combine bread crumbs and parmesan cheese, brush each roll with olive oil and roll in crumb mixture to coat.
Place rolls, seam side down, in a shallow baking dish and bake uncovered for 25 minutes (or until chicken is thoroughly cooked).
Remove toothpicks before serving!