Peter J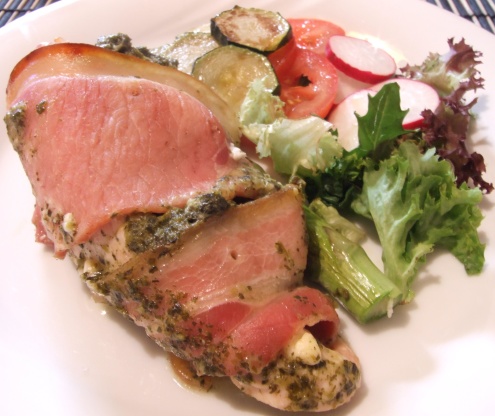 This recipe looks really good and I haven't had a chance to try it yet. It is from All Recipes submitted by Laurie Wheeler.

This had really wonderful flavors and was nice and quick to put together. The chicken breasts I was using were a little thin to stuff properly so I stuffed as much as I could in and left the remainder on top and the bacon held it all together nicely. I found the one hour of cooking time perfect and the moisture in the stuffing combined with cooking it covered left the meat very moist and tender.
Preheat oven to 375 degrees F.
Mix mayonnaise, spinach, feta cheese, and garlic until well blended.
Carefully butterfly chicken breasts, making sure not to cut all the way through.
Spoon spinach mixture nto chicken breasts.
Wrap each with a piece of bacon and secure with a toothpick.
Place in shallow baking dish.
Cover.
Bake for 1 hour, or until chick is no longer pink.