Peter J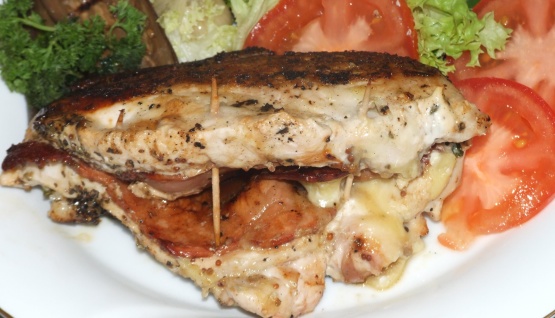 stuffed with spinach, garlic, sundried tomatoes, bacon and mozzarella cheese. SO delicious and really lovely. Serve over your favorite pasta.

This is really good. I omitted the bacon as I served this with a Caesar salad. Also, I cooked this on the BBQ. Rather than dredge in flour I brushed the chicken with a little bit of oil from the tomatoes and sprinkled with the oregano and basil. Thanks for posting this recipe.
Mix flour, basil and oregano in a medium bowl and set aside.
Slice each chicken breast length wise about half way through - making a pocket.
Stuff each chicken breast evenly with minced garlic, bacon, sun dried tomato, spinach, and mozzarella.
Close each chicken breast with tooth picks.
Coat both sides of chicken breasts with the seasoned flour.
Heat the vegetable oil in a skillet over medium heat, add chicken breasts.
Cook each side until done(about 15 minutes total).