Jubes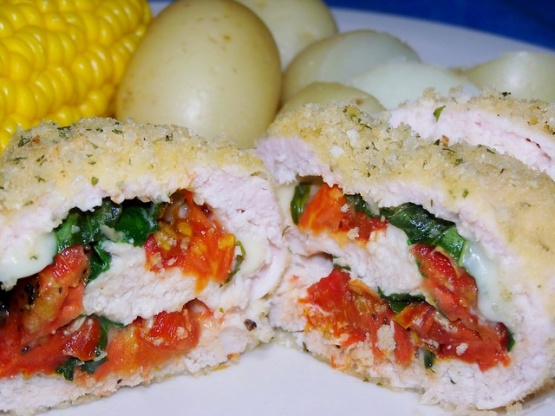 I used rice crackers to crumb the chicken as I can't have gluten, so you could just substitute these with regular bread crumbs. The rice crackers turned out nice and crunchy, but don't brown up.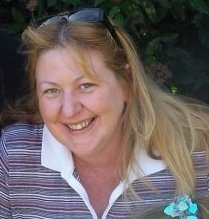 Top Review by Jubes
*Delicious* Fantastic chicken. These were quite easy to make and the directions were clear and simple. I added the water with the beaten eggs. I used grated mozzarella and baby spinach leaves as these were all that was available. I also used "Orgran" brand rice crumbs in place of the rice crackers. It was so good to use a recipe that was already suitable to my gluten-free diet. I sprayed the chicken with cooking oil before placing in the oven and they browned up nicely. The fresh basil leaves and semi-dried tomatoes were great additions. My whole family loved these and we will be making again. I rolled my chicken carefully and secured them with two toothpicks per breast roll- then removed the picks prior to serving. I think these would work well to prepare in advance and freeze. Then could be cooked from forzen (allowing extra time of course!). Photo also being posted
Cover each breast with plastic wrap and pound to approximately a 6mm (1/4") thickness, taking care not to make any holes.
Lay meat out, and just inside one edge lay a piece of mozzarella, black pepper to taste, 3 or 4 of the s/d tomatoes, 2 spinach leaves and 2-3 basil leaves (depending on size).
Fold breast over, and secure with toothpicks or skewers (I used 4 toothpicks per breast) Grind rice crackers using a food processor, rolling pin or mortar and pestle until they are the consistency of "normal" breadcrumbs.
Mix garlic powder, parsely and freshly ground black pepper into rice cracker crumbs.
Dip the stuffed breasts into beaten egg and coat well with crumbs.
Bake in a 200c oven for the first 20mins, then turn down to 180c for another 10 mins or until chicken is cooked through.