Stuffed Champignons on Potatoes Bed
awalde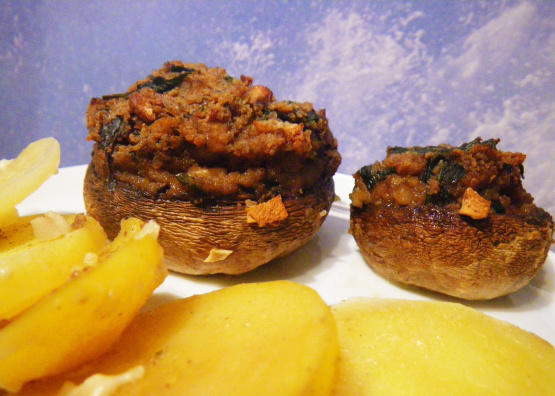 Mushrooms, potatoes and garlic harmonise perfectly together.

This is a tasty recipe and a nice side dish. In full disclosure, I winged it a bit, as I'm cooking for one right now. I used a small baking dish and layered the potatoes in there. I think next time i might add some thyme to the stuffing, maybe a little Parmesan and perhaps some very thinly sliced red onion or chopped shallots. Used half and half. If you make the filling ahead of time, this is quite easy to put together and bake while you put together the rest of dinner.
Cook potatoes slices (in little water, covered) until almost ready.
Remove stems from the mushrooms; chop stems and save for later.
Saute in margarine the half of the garlic for 1 Minute.
Add breadcrumbs, salt (about 1/2 teaspoon) and pepper.
Saute until golden, 2-3 minutes stirring regularly.
Add stems and saute 2 more minutes.
Remove from fire; add parsley and 50 ml milk.
Heat oven to 350°F (heat and timing are basing it on convection oven).
Transfer drained potatoes to greased baking sheet.
Add some more salt, pepper and the remaining garlic over the potatoes.
Fill your champignons one by one and place over potatoes.
Drizzle over the remaining milk.
Bake for 30 minutes until potatoes are soft.