Stuffed Capsicums or Red Bell Peppers
Mandy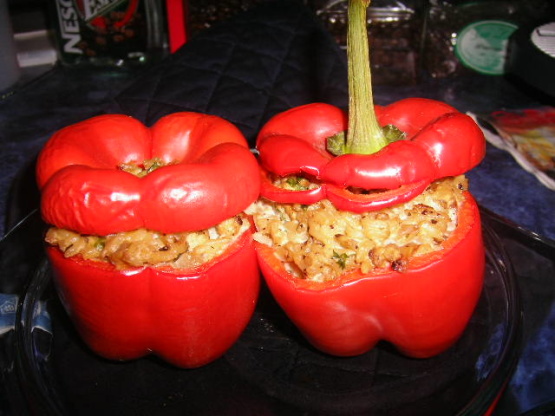 Adapted from a Sun Rice Recipe, this is a great side dish or appetizer for dinner parties because it presents so well. It is quite filling though so would make a great light lunch or dinner on its own too. You could also add some chopped tomato or kidney beans as an alternative.

I really liked this recipe. Very tasty, easy to make and economical. I used basil and garlic chives as my herbs and it worked really well. Loved the inclusion of the sour cream. I've just finished one cold, for lunch, and I really like it liked that too. I'll be making these again. Mine did take a little longer to cook but that was my mistake. I crammed them into a fairly high-sided baking dish and the bottom halves didn't cook as quickly. I placed them on a shallow tray and they cooked in no time.
Preheat oven to 180.C.
Remove tops from capsicums, discarding seeds and membrane.
Drop capsicums in boiling water for 30 seconds then refresh in cold water and arrange standing up in a small baking dish.
Heat butter in a saucepan and saute onion & garlic & chicken mince for 5 minutes.
Pour off any fat, then add flour and cook for 1 minute, add stock and bring to the boil, stirring constantly.
Stir in sour cream, herbs and rice.
Spoon rice mixture into prepared capsicums and bake for approx 20 minutes.