Stuffed Capsicums or Bell Peppers
Prep 10 mins
Cook 25 mins

Directions
Preheat oven to 180°C.
Toss the capsicum in half the oil, then place on a baking tray.
Combine ricotta, tomatoes, onion, rind, garlic and half the basil, then use this mix to fill the capsicum.
Drizzle with remaining oil and bake for 20-25 minutes.
Garnish with remaining basil.
Most Helpful
We loved this different stuffed pepper! I used 1 red bell pepper cut in half lengthwise, only enough olive oil to brush the peppers with and barely pour over them, part-skim ricotta, grape tomatoes halved, red onion diced, 1/2 of a lemon's zest, 1 garlic clove and 1/8 cup fresh basil. The filling just filled the pepper halves. These were creamy and flavorful. Made for 1-2-3 hit wonders.

This tasted great. My only reservations were that they came out too watery (poured quite a bit off before serving), and there wasn't enough stuffing to fit the capsicums. I suspect if you added some breadcrumbs, rice or other grain it would turn out better. It would still taste great, be less watery and the stuffing bigger in volume to fit your peppers. I didn't think my peppers were all that big? I used less olive oil, and just brushed it on the exterior of the peppers. I also used part skim ricotta. BTW, my BF was more favorable in his review of this recipe than I was. Thanks Jewelies:D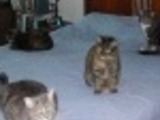 Yummo! Unfortunately I didn't have any fresh basil so used a sprinkling of dried basil with a little extra of the other ingredients and that worked well. For presentation I left 3 cherry tomato halves per piece out of the mix and layered them on top to make them look very pretty.