basya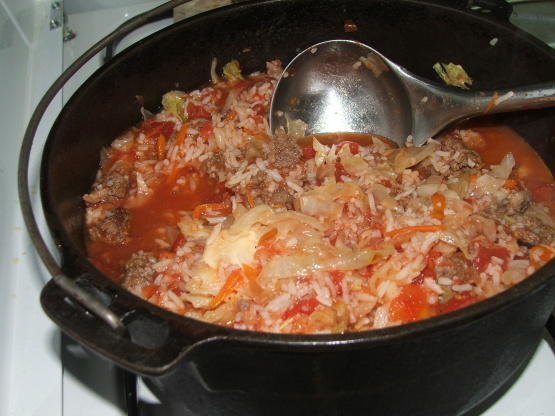 OH SO GOOD with a unique taste! If you like vegetable soup then this is similar, but with a little bit of sweet taste.

If you're a stuffed cabbage lover, then don't miss this recipe. No need to spend hours cooking the cabbage, rolling the cabbage rolls and messing up the kitchen. This is the closest thing to the real thing with no fuss, no mess, Just the "GREATEST" Try it, You'll love it.
Heat oil in 6 qt.
pot over medium heat.
Add beef, saute until browned.
Add coleslaw mix and onion.
Cook covered 4 minutes, stirring after 2.
Add tomatoes, beef broth, water, brown sugar.
lemon juice and salt.
Bring to boil.
Add rice, reduce heat to medium-low.
Simmer, covered, 45 minutes or until beef and rice are tender.