Sica6488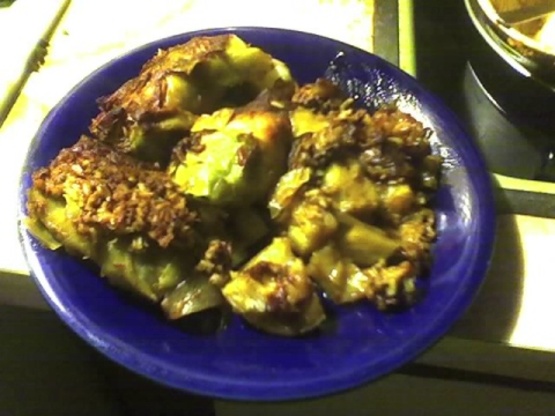 A mixture of several recipes that I found to my taste. I hope you like it too. It may be made ahead and frozen or eat some and freeze some for later.

this wasn't to bad. My first attempt at doing this. So needless to say my better half was worried. LOL! Kind of has a Sweet & Sour taste to it. It was a bit to sweet for even me so I may cut down on the Sugar next time. Ah and yes a big head of Cabbage is highly recommended. Also since I didn't have fresh garlic I used about 1 Tbsp of miniced Garlic.
Grease 9X13 dish.
Preheat oven to 350.
Bring lg.
pot salted water to boil.
Core cabbage and put it in the pot, cover and boil gently for 4 or 5 minutes.
Drain well and set aside.
Saute' onion and garlic in butter til soft.
Add tomato sauce, water, allspice, salt and pepper.
Simmer 15 minutes remove about 15 outer leaves of cabbage and set aside for wrapping rolls.
Chop remaining cabbage coarsely and spread over the bottom of the dish.
Sprinkle the brown sugar over cabbage and lightly salt and pepper it.
Put 3/4 sauce into a mixing bowl with the rice and beef and mix well.
Divide filling into approximately 12 parts and roll each in a leaf.
Place them seam side down on the chopped cabbage.
Spoon a little of remaining sauce on each roll.
Cover top with remaining leaves and bake for 1 hour.