Stuffed Cabbage Leaves (Kaaldolmer)
teresas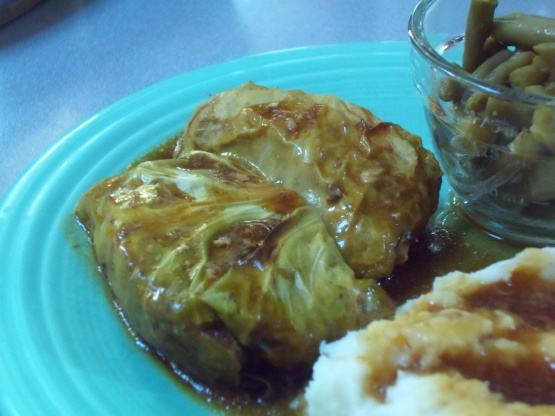 Stuffed cabbage leaves are popular all over the world, and in Scandinavia cabbage leaves are filled with well-seasoned tidbits. This recipe can be prepared in advance and reheated in their sauce just before serving. This recipe is from Scandia's in Los Angeles, and the recipe is from "A Treasury of Great Recipes" by Mary & Vincent Price. This is great served with mashed potatoes and buttered green beans as a main dish, or it can be used as an appetizer serving the individual rolls.

We loved the flavor of the stuffed cabbage. I did have a few problems. The first being that I only got 14 large leaves out of my cabbage and I thought I got a huge one. But that was ok because they fit perfect in the pan. The other problem was the mixture was like soup so I added in another pound of meat. I did use the veal and the pork. This seemed to help it some. I don't know why there is only 2 tablespoons of rice. You can't taste it. But we sure liked the flavor of the gravy. I served it as suggested with mashed potatoes and green beans. Thanks for posting. :)
Cut the core from a large cabbage and cook in salted water for 15 minutes. Drain, cool slightly, and remove 24 large outer leaves.
Simmer 2 tbsp rice in 2 cups milk for 40 minutes. Cool.
Mix 1/2 lb ground pork, 1/2 lb ground veal or sirloin, and 1 tsp salt. Gradually beat in 5 eggwhites, one at a time, beating vigorously after each addition. Slowly add the rice mixture to make a smooth creamy filling. Stir in 1/4 tsp ground white pepper and 1 medium onion, minced.
Preheat the oven to 375 degrees.
Cut the heavy thick part of the stalks from the cabbage leaves. Take one leaf at a time and overlap slightly to close up the opening left by removing the stalk. Put a tablespoon of the meat filling on each leaf. Roll leaf over once, turn sides over filling, then roll to the end of leaf, completely enclosing the filling.
Arrange the rolls in a buttered baking pan (9x12 1/2 inches). Add 1 10 1/2 oz can of beef consomme and spread each roll with 1/2 tsp molasses. Bake in the moderately hot oven for 30 minutes. Turn each roll and bake for 30 minutes longer.
Arrange the cabbage rolls side by side in a warm serving casserole.
For the sauce:.
Stir into liquid remaining in pan: 1/2 tsp cornstarch mixed with 1 tbsp water. Cook over direct heat, stirring, for 2 minutes. Pour the sauce over the cabbage rolls.