Brenda.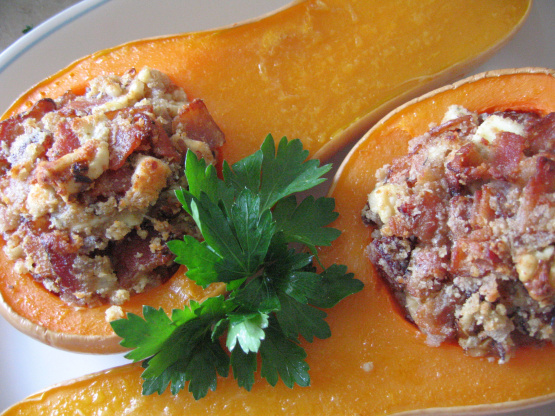 A luxuriously creamy delight - with a crunchy, nutty bite. From Asda magazine

This was one of the best meals I've ever made. SO good, and fairly easy to make too!
Pre -heat the oven to 190C/Gas 5.
Halve the butternut squash, remove the seeds and put on a baking tray cut side up.
Dot the flesh with half the butter, cover loosely with foil and bake for 45 minutes.
Meanwhile, fry the onion and bacon in the oil and remaining butter until the onion is soft and the bacon crisp.
Put in a bowl and stir in the mustard, thyme, walnuts, breadcrumbs and cheese.
Season and pile onto the squash.
Bake, uncovered, for 20 minutes more, or until squash is completely tender and the cheese has melted.
Cut in half to give 4 portions, and serve.