GaylaJ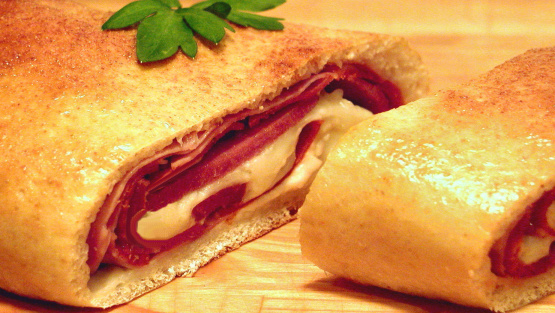 I made this last night along with homemade pizza. The flavor is great and it's so easy. I made three slits in the top and instead of brushing with beaten egg, I brushed with olive oil and sprinkled with garlic powder and a bit of shredded cheese. The taste of this is a definite 5! However, the instructions are not very clear and may cause some confusion. It doesn't say which side to start rolling (I started on the long side) and it doesn't say to seal the seam or ends or to put on the pan seam down (all of which I did). I think seasoned cooks will take all this for granted, but maybe not newer ones. Maybe I didn't even do it the way it was intended, but it came out lovely. Thanks for sharing!
Roll out pizza dough, layer with salami, ham, pepperoni,and cheese.
Roll from top to bottom.
Brush on beaten egg and sprinkle with garlic powder.
Bake in oven at 375 degrees for 20 to 25 minutes or until top is golden.