Bergy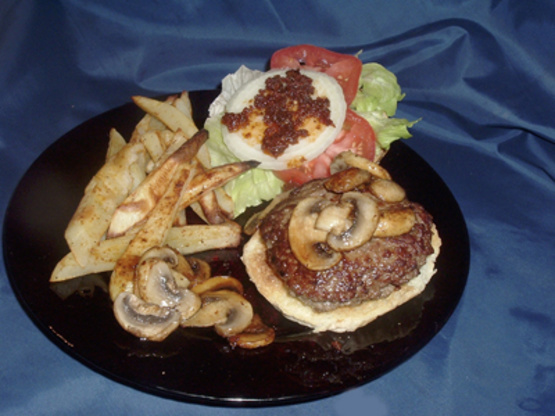 Stuffed burgers are great, and here's a burger rich with blue cheese. Mmm!

Top Review by Bergy
Yet another great burger recipe! very tasty. I had a slice of raw vidalia onion on the burger so left it out of the pattie, also I love whole or half mushrooms so I cooked them along side. When cooking the hamburger I brown it well on both sides (high heat) then turn the heat down to medium low, add the mushroom, cover the pan and let it cook slow. Flip the burger a couple of times - it is so juicy Thanks for a great recipe
Mix meat, Worcestershire sauce, salt, garlic powder, pepper, minced onion, oregano (if using), and basil (if using).
Shape the meat mixture into 12 thin patties, each about 4 inches in diameter.
Mix the cream cheese and the blue cheese.
Top 6 patties with the cheese mixture, spreading it to within 1/2-inch of the edge (if the mixture is difficult to spread, try heating in the microwave for about 15 seconds).
Press the mushrooms into the cheese.
Cover each patty with one of the remaining 6 patties, sealing the edges well.
Broil or grill the patties (4-inches from the heat), turning only once if possible, until preferred doneness and cheese is melted, about 10 to 15 minutes.
Low-carb serving: top with a bit of grated Swiss cheese and enjoy!
High-carb serving: eat with a bun and other condiments.
To make it extra-special, top each with a couple strips of crispy bacon.