Stuffed Bell Peppers With Rice and Veggies
loof751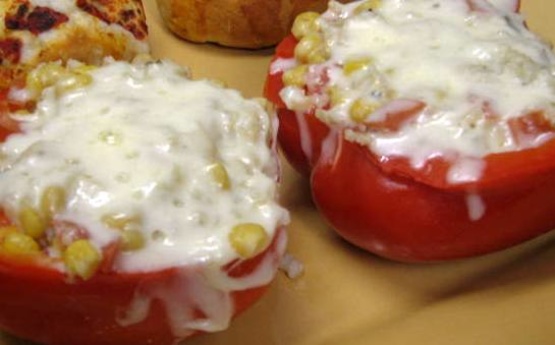 An healthy meal with veggies. You can use brown rice if you prefer. You can add tomato sauce to combine rice and veggies. From the issue of September 2006, Coup de Pouce.

I think I must have done something wrong here, as this recipe was not a hit at all. It certainly felt healthy and chock full of veggies, but the filling was somewhat bland and I thought more of a sauce was needed. One of the few recipes that I have decided not to make again.
In a saucepan, heat oil at medium heat. Add garlic and 2/3 of green onions. Cook for 1 minute. Add rice and cook, stirring, for 2 minutes. Add 2 cups water and oregano. Bring to boil. Reduce to low heat, cover and let simmer for 20 minutes or until rice is cooked.
In the saucepan, add tomatoes, corn kernels, parmesan, salt, pepper and stir. Spread the rice garnish in bell peppers. In a big skillet, pour remaining water and add stuffed peppers. Cover and cook at medium-low heat for 17 to 20 minutes or until peppers are tender (add water if necessary).
Sprinkle peppers with mozzarella cheese, cover and cook for 2 minutes or until cheese has melted. Sprinkle with remaining green onions.