Stuffed Bell Peppers (Easy and Kid Friendly)
vmaas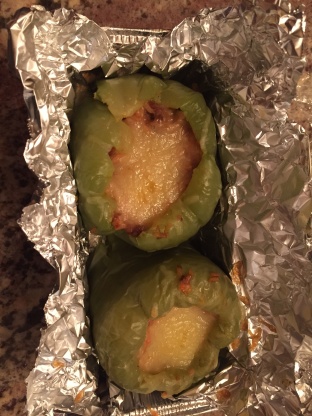 This recipe came from my friend's mom. It is great. We've made it numerous times. People of all ages love it. Serve it without the bell peppers if your family is against them and instead put on cheddar cheese and melt. It is delicious and hearty. Our friend's daughter calls it meat rice with tomatoes. Easy weeknight meal. The difference is the worcheshire sauce and cheddar cheese. Enjoy! ChefDLH
1 cup uncooked rice- cook according to package directions.
Meanwhile in skillet, brown 3/4 to 1 pd of ground beef. Add salt and pepper and about 1-2 tsp dried minced onions. cook till meat is done.
When the rice is finished, combine rice, meat mixture, 1 can (15oz) of tomato sauce, and two tablespoons of worcheshire sauce. Simmer about 15-20 minutes, stirring occassionally.
Blanche the bell peppers first so they are soft.
If you like bell peppers, you can put the mixture in bell pepper, top with shredded cheddar and bake in the oven until hot, about 15 minutes.
If you do not like bell peppers, sprinkle some cheese over the mixture in the skillet and serve once it is melted.
It does not take that long and you can get other stuff ready while the rice is cooking and mix is simmering.
Serve immediately. Leftovers taste good also if your bell peppers are filled and mixture is leftover.