gailanng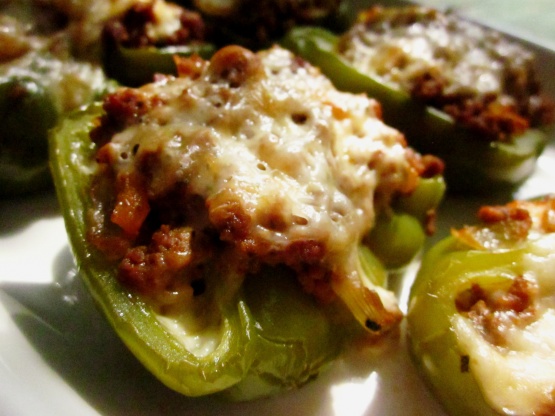 Posted on request by Di Neal. Nice presentation and pretty easy too!

This was very good! I changed it a little by using brown rice (that's all I had) and I just threw the green pepper pieces, onion, and parsley in with the rice as it cooked...I also added some corn and red pepper flakes to this rice mixture. After it was done cooking, I didn't want to open a whole can of tomato sauce (I was only making 1 pepper) so I used ketchup instead. Before I baked it, I wiped some extra virgin olice oil on the outside of the pepper. Then I continued to make the recipe like normal and it was VERY good!! Thank you for posting!
Combine rice and water in a small saucepan.
Bring to a boil, reduce heat to low, and simmer for about 15 minutes.
Preheat oven to 400 degrees F (205C) Cut tops off peppers, seed insides, and arrange peppers in a large baking dish.
Chop usable portion of the tops.
Heat oil in a large skillet over medium heat.
Brown ground beef in skillet.
Stir in chopped peppers and onions in oil until soft.
Add parsley.
Reduce heat to low, and continue cooking for 5 minutes.
Mix in cooked rice and 1 1/5 cups tomato sauce.
Season to taste with salt and pepper.
Spoon the mixture into the peppers, and top each with remaining tomato sauce.
Cover, and bake about 45 minutes.
Uncover, top each pepper with mozzarella cheese, and bake until cheese is melted.