Prep 20 mins
Cook 40 mins

This is a nice stuffed pepper dish that came from a friend from the past. I like this because the meat in this does not turn into a HARD meatball. Pre-cooking it first and then mixing it with the cooked rice is the secret!
Directions
Remove tops and seeds from peppers; parboil peppers for 5 minutes and drain.
Place peppers in a baking dish.
Combine ground beef and onion and cook together until done.
Drain and set aside.
Prepare Rice-A-Roni according to package directions.
When rice is done,combine it with the beef and onion.
Fill peppers with rice mixture.
Mix the 1 teaspoons sugar with the tomato sauce and pour this AROUND the peppers (not over).
Cover the baking dish.
Bake at 350°F for 35 minutes and then uncover and top with the shredded cheese.
Bake uncovered for about 5 minutes more to melt cheese.
Serve with the tomato sauce.
Most Helpful
This was one delicious meal! I did modify the recipe a bit. Because i didn't have rice-a-roni, I subbed Recipe # 17126 instead. And when cooking the ground beef, I seasoned with Recipe # 2642. The filling for the pepper was so delicious, I was eating it straight before I even got it into the peppers! This is a great dish-- thanks for posting it.
Loved these! I halved the recipe and it worked out great. I didn't have Rice-A-Roni, so used brown rice instead and still mixed it with the tomatoes, adding salt and pepper. I also omitted the cheese. Delicious. Thank you!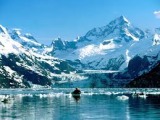 Delicious! I prepared this as directed up to the cooking step. My plans were to freeze these, which I did. I separated them into small freezer containers, pressing plastic wrap down on them to prevent crystals and freezer burn. Last night, I took one out for supper, put the peppers into an small casserole, still frozen and into a 350 oven. Baked them about 40 minutes, my peppers were really small, so larger ones will take longer. It was absolutely scrumptious and such an easy meal! Good old comfort food. Definitely a keeper! Thanks Theresa P Wanted to add that I have prepared this recipe using the unstuffed method, slicing the peppers and spooning everything else over them, freezing small serving portions and when ready, popping a serving into a casserole dish and baking them frozen. Works beautifully!