teresas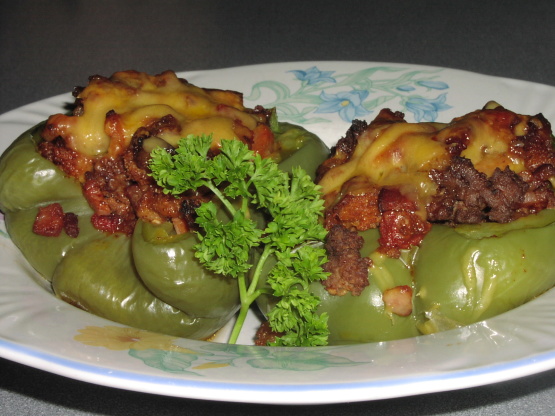 I have been making this recipe for 25 years but I have never written it down. I got the recipe from my best friends mother in law. I religiously made it exactly as she had given it to me. I ran into her a few years ago and told her how I had made her recipe all these years. She told me she never puts the same ingredients in twice. She just uses what she has on hand. LOL.

Ta dahhh! These peppers were so flavorful - even my 14yo DS gobbled them up! I used half a pound of meat since there was only three of us and pre-cooked/crumbled bacon. The chili powder is what really makes this dish shine! Instead of parboiling the peppers, I broiled them for a few minutes upside down until they were just starting to blacken, then flipped, filled and baked at 350 for 15 minutes, turned out just right without heating the kitchen for tooo long on this hot summer night.
Put hamburger, bacon, onion, and garlic in a skillet.
Cook until hamburger is brown, drain grease.
Add seasoned salt, chili powder, bread pcs and tomato sauce.
Mix thoroughly.
Cut green peppers in 1/2, cleaning out seeds and membrane.
Parboil pepper halves in boiling water for 5 minutes.
Put into 13 x 9 pan.
Fill pepper halved with beef mixture.
Put 2 T cheese on top of each pepper half.
Bake in 350°F oven for 30 minutes.