loof751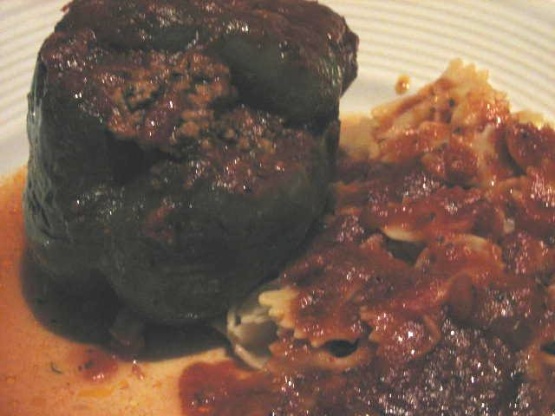 Versatile juicy stuffed peppers, my X mother in law is half Greek and half Polish, she used to make this recipe quite often with green peppers. I have changed it a little to make it a little less acidy and bitter, and so that kids (or at least mine) like it. It is also a great dish to make for days you won't have much time to make dinner; you can prepare this the night before or early in the morning put it in a crock pot; plug it in set it for when you want it done and go.

This was a great, hearty, easy meal! The meat stuffing was tender and juicy and everything cooked up perfectly in the crock pot. I used a large jar of chunky garden-style pasta sauce, cooked 4 peppers on low for 6 hours, and served with bow-tie pasta. This meal was loved by all!
1⁄2 lb ground beef

1

small onion
1⁄3 cup mushroom, finely chopped

1

stalk celery, finely chopped

1

garlic clove, finely chopped (or 1/2 tsp powdered garlic)

2 -3

teaspoons italian seasoning (or to taste)
1⁄4-1⁄2 cup breadcrumbs (don't make the mix to dry)

1

egg

3 -4

large bell peppers

2 -3

cups egg noodles
Mix ingredients well then add egg and mix egg in very well. (substitute other vegetables of choice if you like).
Cut tops off peppers, take seeds out, stuff pepper with stuffing replace peppers cap, put in crock pot of appropriate size for the amount you are cooking. After all peppers have been stuffed pour a jar of store bought or home made spaghetti sauce of your liking over/around peppers and cook until peppers and meat are thoroughly cooked. In a crock pot approximately 2-4 hours on high, or if on low 4-6 hours. Serve with pasta of your choice or rice.
Makes 3 large peppers or four small, for larger recipes increase ingredients as needed.
For a smoother slightly sweet taste use red or orange peppers as they aren't as bitter as the green.