Bergy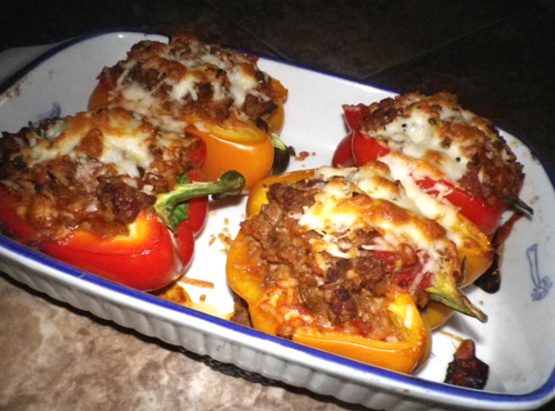 I know there are tons of stuffed bell peppers recipes already posted -- but I didn't see this one. Some of the members of my family don't actually eat the bell pepper (for others, that's the best part) -- but EVERYONE loves the stuffing! Sometimes I'll double the stuffing part and if I don't have enough peppers, I just put it in a little casserole dish and watch everyone fight for it. If you are looking for a stuffed bell recipe, I hope you'll try this one.

The whole family loved these. I used your hint and put the tomatoes in the blender so my 4 year old would eat this(he hates tomatoes). I doubled the recipe and stuffed 6 peppers and had a square pan of "stuffing" for those that don't like peppers. I will admit I added fresh corn, cut off the cob and very small diced peppers to the filling so the kids would get some veggies too. My 4 yr old wanted seconds.I think the cheese is what makes this so good to the kids. Served with corn bread. Thanks for sharing this great recipe.My husband wanted it added to our usual line up.
Core and clean peppers and cook in hot water for approximately 5 minutes. Remove from water, stand upside down and drain.
Sprinkle inside with salt.
Brown beef and onions in hot oil. Add tomatoes, rice, Worcestershire sauce, salt and pepper. Simmer 5 minutes.
Stir in 1 cup cheese and stir until almost melted.
Stuff peppers and top with additional cheese.
Bake approximately 25 minutes in 350 oven.
Note: I usually add about 1/4 cup water to the baking dish just prior to put it in the oven. Also, if you think the whole pepper is to large, you can cut it in half and stuff them that way.
Note #2: My grandson doesn't like to find a "chunk" of tomato in his pepper -- so if he's going to be around for the meal (his favorite one), I'll put the stewed tomatoes in my food processor and give them a couple whirls just to break up any large pieces of tomato.