Bergy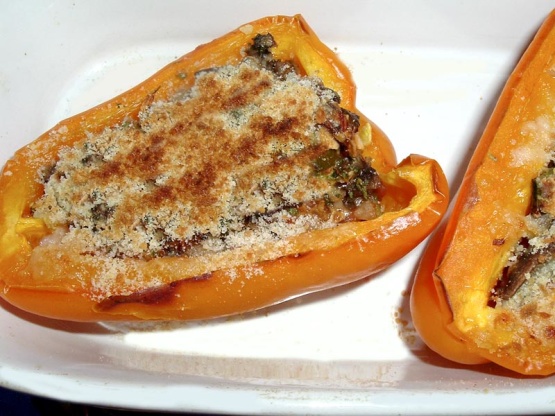 The garden overflows with peppers so I made up this recipe. We enjoyed it, and I hope you do too. Another variation would be to leave the peppers whole just cut off the top, scoop out the seeds & membrane, mix the cheese in with the other stuffing ingredients and stuff the peppers from the top. Bake time would be approximately the same. Serve as an appetizer or a side dish As you can see by the photo, you may substitute small colored bell peppers, anaheim or any other surplus garden pepper you may have, yes even jalapenos!
Lay the peppers cut side up in an oven proof dish that has been lightly oiled.
Mix remaining chopped ingredients (except cheese).
Spoon the stuffing onto the peppers leaving the edges exposed.
Sprinkle with Parmesan.
Bake in 375F oven for approximately 15 minutes.