twissis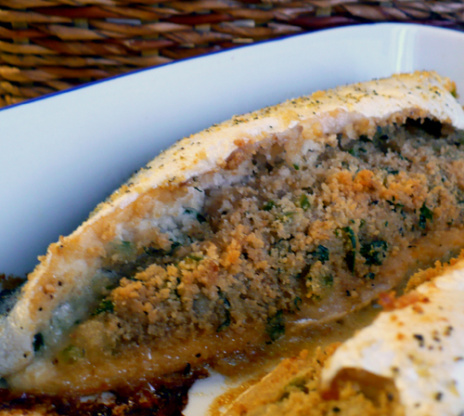 A delicious and savory stuffing to enhance the wonderful flavor of fresh trout. Serve with a nice side of fresh green beans and warm soda bread, makes a wonderful meal.

I had three trout, about 10 to 12 inchers in the freezer I caught some time ago in Iowa, so I thought I better cook up or toss. I must say the stuffing was very good! Didn't change a thing! Bigger fish may have been better, small guys are best suited to pan frying, but this is a "keeper"!
Cook and stir onions and pepper in butter until tender.
Removed from heat and add gread crumbs, parsley, lemon juice and basil.
Rub cavities of trout with salt then stuff each with approx 1/4 cup of stuffing.
Place fish in baking dish
Cook uncovered in 350 degree oven until fish flakes easily. approximately 30 - 35 minutes.
Garnish with cherry tomatoes and parsley if desired.