Stuffed Baked Potatoes with Horseradish Cream
teresas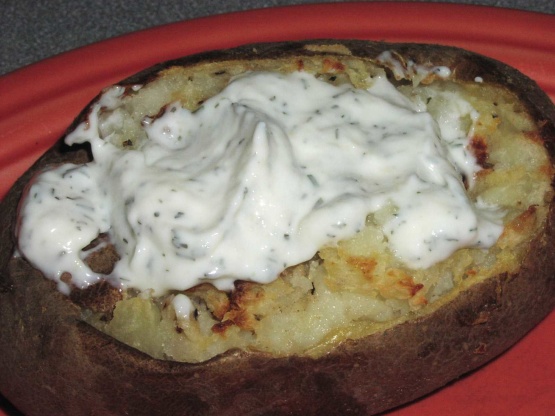 Potatoes can be prepared a day ahead and the last 50 minutes of baking done before serving. Do not try this if you're not a horseradish fan.

I first tried this recipe when it came out in the Bon Appetit magazine November 1994 issue. I add a bit of garlic powder to mine. I also add a bit more sour cream and 2 Tb. of milk to the mixture for added moisture. These are very forgiving, I have warmed them back up alongside a roast at 400 degrees for only 35 minutes and they turn out just fine. I have used chives or green onion tops instead of the dill when I didn't have any dill on hand. If you like horseradish, you will really enjoy these. Thanks for posting, Bogey'sMom.
6

large baking potatoes, rinsed and dried

6

tablespoons sour cream

6

tablespoons butter

2

tablespoons prepared white horseradish, drained
salt and pepper

Topping

1⁄2 cup sour cream

2

tablespoons prepared white horseradish, drained

2

tablespoons fresh dill, chopped
Preheat oven to 400.
Pierce potatoes with fork and bake 1 hour.
Remove and cool, place on baking sheet.
Slice skin away from top of each potato and carefully scoop out pulp, leaving 1/4 pulp in shell.
Be care not to tear shells.
Spoon pulp into mixing bowl and mash with 6 T sour cream, 6 T butter, 2 T horseradish, salt and pepper.
Spoon into potato shells, return to oven and bake for 50 minutes.
Combine topping ingredients, cover and chill until potatoes are done.
When potatoes are done, remove from the oven, spoon topping on each and serve.