Stuffed Baked Potatoes Deconstructed
Brenda.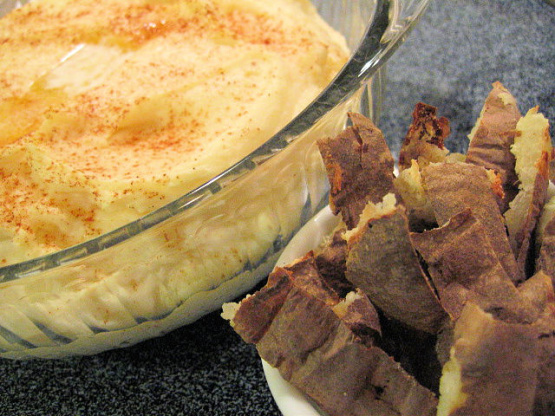 My original recipe. I love twice or stuffed baked potatoes, but sometimes they don't come out just right. The insides overcook, the outsides get really crisp. There is no way to save overcooked insides, but the shells are still great, so I dumped the insides, mixed up some potato buds with extras. Then I broiled the hollowed out skins till very crisp. I mixed the Potato Buds with a lot of garlic, sour cream, deli italian cheese blend, and green onions. I then served the soft potatoes as a mash on the plate and cut the very crisp potato skins into "chips" for scooping up the mashed. My 91-year old patient really got a kick out of this and I'm sure kids will too.

Oh so good! I loved the 4 cheese Italian blend. DH doesn't like the texture of onions or green onions so I did have to use granulated onion which still gave it the yummy onion taste. I chose to mash and put in a medium casserole and kept them warm in the oven while the rest of dinner was being buttoned up. They held nicely. When I broiled my skins, I had to practically beat my DS back with a wooden spoon because he loves crispy skins! I seasoned them up a bit with seasoned salt before crisping. Cute idea serving the crisps on the side. *Made for PAC Spring 2010*
Thouroughly wash large russets and bake at 450 degrees for 50-60 minutes.
Remove from oven. When cool enough to handle, cut in half lengthwise and scrape out potato, leavine a scant 1/8 inch of potato on skin.
If your potato is baked perfectly, feel free to use it, rather than using the potato buds. You will need to add some milk and butter to make the right consistancy.
If using the Potato Buds, prepare according to package directions, but make them a bit thicker by adding an extra 1/4 cup of buds when told to add the buds. You have to do this to compensate for the sour cream which can make your potatoes too thin.
Add all remaining ingredients to your potato and mix well.
Place the 4 halves of potato skin under broiler and broil until very crisp, watch closely to avoid burning. You can lower the rack to keep from burning.
Tear or cut the crisp potato skins into "chips".
Place the "potato mash" on plate, garnish with some chives and serve the "chips" to scoup up the potato. I actually stuck the skin chips into the mash at odd angles, it looked kinda cool.
*****This is one of the oddest things I have ever dreamed up, but it is good.