Nimz1466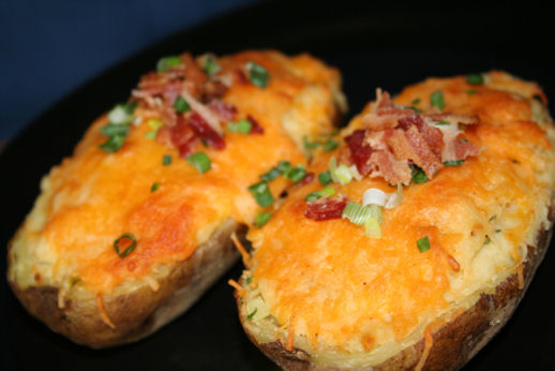 From Taste of Home Magazine. These are a little bit different from some of the other recipes in that these have garlic and ranch dressing mix in them.
Bake potatoes at 400° for 1 hour or until tender.
Reduce heat to 375°.
Cut each potato in half lengthwise; scoop out the pulp, leaving a thin shell.
In a large mixing bowl, beat the pulp with butter.
Stir in 1 cup of cheese, sour cream, salad dressing mix, chives and garlic.
Spoon into potato shells.
Sprinkle with remaining cheese.
Place on a baking sheet.
Bake for 15-20 minutes or until heated through.
Top with bacon and green onions.