gailanng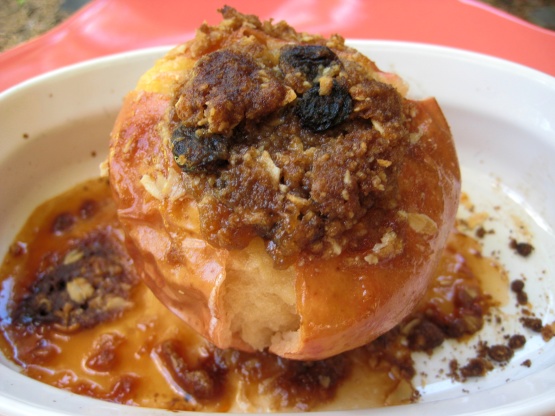 Another one from Ms. Ray, only slightly altered. This is such an easy dessert and terrific topped with vanilla ice cream or whipped cream...or both! *Be sure to a dish with sides as this can get rather saucy!
Very disappointed in this recipe. I had medium size apples but they we hard after the 20 minutes at 420 degrees. The 420 made some of the stuffing hard and hadf a little burned flavor. I would suggest reducing temp to 375-350 and increase the time to 40-45 minutes. I may make it again with changes because it is easy to make.
Sprinkle cored apples with lemon juice.
Mix next 7 ingredients and pack stuffing into center of cored apples. Don't worry if it spills over the top -- heap it on!
Bake at 425 degrees for 20 minutes.
Transfer apples to small bowls with a spoon and top with ice cream and/or whipped cream.